Music at The Movies
If you love music, then Music at the Movies is for you! Join us in cinemas across Canada for music documentaries, concert films and music movies where you can celebrate your favourite artists with other fans!
Synopsis: CELEBRATING 30 YEARS OF ANDRÉ AND HIS JOHANN STRAUSS ORCHESTRA - Known to millions as 'The King of Waltz', André Rieu is one of the world's most popular music artists. His legendary annual Maastricht concert is the most eagerly anticipated cinema event of the year, last year setting new box office records in several countries. Set against the stunning medieval backdrop of the town square in André's Dutch hometown, the spectacular Maastricht concert features the maestro in his element, along with his 60-piece Johann Strauss Orchestra, sopranos, tenors and very special guests. André delivers an unforgettable musical experience full of humor, fun and emotion for all ages. This presentation of André Rieu's 2017 Maastricht Concert in Cinemas features host Charlotte Hawkins, who conducts an interview with André Rieu the moment he steps off stage, exclusively for cinema audiences.
Dates:
August 26, 2017
September 6, 2017
September 10, 2017
Synopsis: 45 years after Pink Floyd's David Gilmour filmed 'Live At Pompeii' in the legendary Roman Amphitheatre there, he returned for two spectacular shows, part of his year-long tour in support of his No.1 album 'Rattle That Lock'. The performances were the first-ever rock concerts for an audience in the stone Roman amphitheatre, and, for two nights only, the 2,600 strong crowd stood exactly where gladiators would have fought in the first century AD.
'David Gilmour Live At Pompeii' is an audio-visual spectacle, featuring lasers, pyrotechnics and a huge circular screen on which specially-created films complement selected songs, but paramount above all is the astonishing music and stellar performances from an all-star band. The show includes songs from throughout David's career, as well as many Pink Floyd classics, including 'One Of These Days', the only song that was also performed at the band's 1971 show.
Both concerts also saw very special performances of 'The Great Gig In The Sky' from 'The Dark Side Of The Moon', which David rarely plays as a solo artist. This concert performance film includes highlights from both shows, filmed in 4k by director Gavin Elder . 'David Gilmour Live At Pompeii' shows an artist at the top of his artistic game, performing incredible material with his world-class band, in a unique setting, on one very special occasion.
Songs include the title tracks of his two most recent No. 1 solo albums: Rattle That Lock and On An Island, as well as other solo and Pink Floyd classics, including Wish You Were Here and Comfortably Numb.
David Gilmour Live at Pompeii contains a sequence of flashing lights which might affect customers who are susceptible to photosensitive epileptic seizures.
Date:
September 13, 2017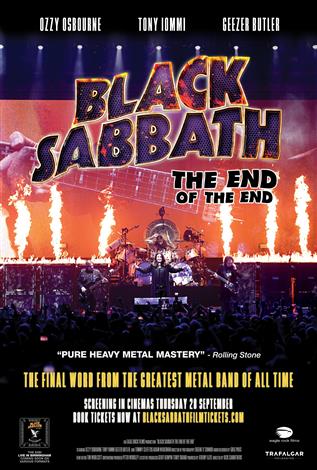 Synopsis: The End of The End is the story of the last gig by the biggest name in heavy metal, Black Sabbath. After nearly 50 years, the band from Birmingham took to the stage for one last time in their home city, bringing down the curtain on a final tour that no one thought would ever happen. The film gives fans the opportunity to relive that final concert as well as giving an unparalleled insight into the men that have seen and lived it all, in their own words. The band also takes to Angelic Studios in order to perform tracks that haven't seen the light of day for over forty years. After half a century, this is your chance to hear the final word from the greatest metal band of all time.
Dates:
September 28, 2017
* Presentations may not be available at all participating theatres for all advertised dates.