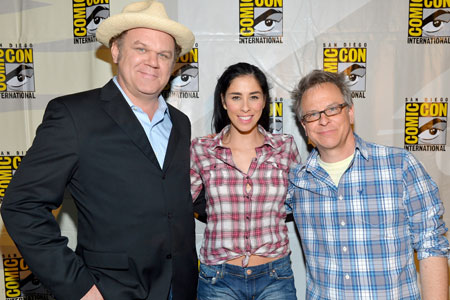 1-on-1 with Wreck-It Ralph's director Rich Moore
Wreck-It Ralph follows video game 'bad guy' Ralph who, after deciding he's fed up with his vilaainous lot in life, takes matters into his own massive hands and sets off on a game-hopping journey to prove he's got what it takes to be a hero. It is a movie tailor-made for the Comic-Con audience. Animation, gaming and pop culture all rolled into one big screen package. So it should come as no surprise that the ravenous fans of Hall H got a bit vocal when first-time feature director Rich Moore revealed he'd brought ten minutes of the film to share.
We got a chance to sit down with Moore prior to his popular on-stage debut at the Con to talk on nostalgia, video games and the awesomeness of John C. Reilly and Sarah Silverman. Check it out below!
Wreck-It Ralph hits Cineplex theatres November 12.
Follow all our Comic-Con news at our fest HQ!