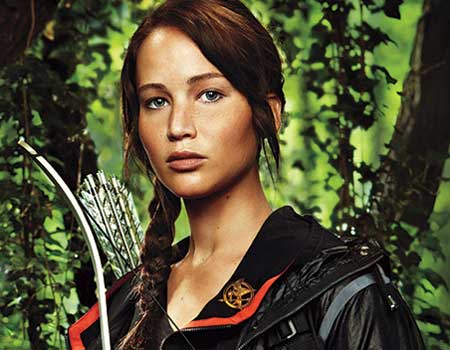 EXCLUSIVE: Hunger Games first poster
Though the highly anticipated film won't have a heavy presence at this year's Comic-Con, it's still getting in on the general wave of fan excitement with today's poster debut. Aside for a few 'first look' images of star Jennifer Lawrence (left), the poster below is the first real change for Hunger Games aficionados to get a glimpse of what's in store, theme-wise, when the best-seller makes the leap to the big screen next March.
For those who aren't up to speed on the popular Suzanne Collins novels, here's your Hunger Games 101: The young-adult sci-fi series follows heroine Katniss Everdeen (Lawrence) through a dystopian future where teens battle to the death on TV. With a stellar cast accompanying the Oscar-nominee, including Stanley Tucci, Donald Sutherland, Elizabeth Banks, Woody Harrelson, Liam Hemsworth and Josh Hutcherson, the film is more than just the next Twilight (as many are calling it), it's a force to be reckoned with all on its own. Check out the first poster below now:
Hunger Games is set to hit theatres on March 23, 2012.