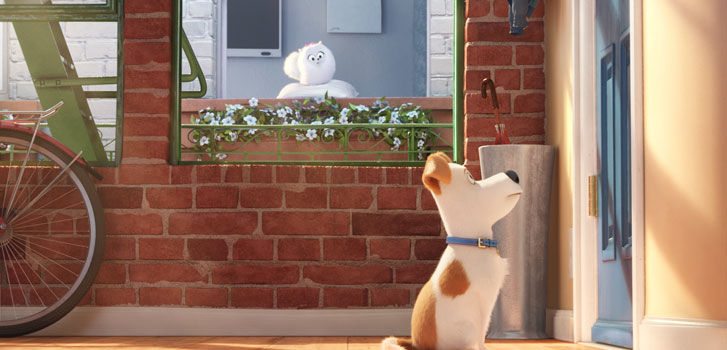 Find out what pets do when humans aren't around in the new trailer for The Secret Life of Pets
If you have a pet, there's a pretty good chance you've seriously considered setting up cameras to see what they get up to when you're not around. Well, now you don't have to, because the clever people at Illumination Entertainment have basically done it for you.
The aptly titled The Secret Life of Pets answers the burning question of pet owners everywhere: when I leave the house, what does my dog/cat/fish/bird etc. get up to? Following the furry, feathered, and scaly residents of a Manhattan apartment building, we get a look at what the pets of New York get up to on their own time.
Featuring Louis C.K. as the voice of a loyal dog Max, The Secret Life of Pets finds Max having to get over his differences with fellow dog Duke to stop a bitter rabbit from taking revenge with its army of abandoned pets. Who knew our pets' lives were so dramatic?
The Secret Life of Pets also features the voice talent of comedy favourites Ellie Kemper, Eric Stonestreet, Lake Bell, Kevin Hart, Jenny Slate, and Hannibal Buress. The Secret Life of Pets hits Cineplex theatres next summer on July 8th, and the new trailer gives a preview of some of the hilarious shenanigans to expect.
Check it out!