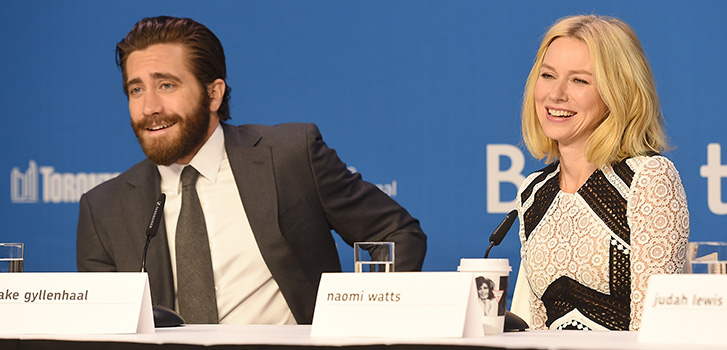 TIFF 2015: Five things we learned about Demolition
French-Canadian director Jean-Marc Vallee has been on a roll lately, bringing his unique voice to films such as C.R.A.Z.Y, Dallas Buyers Club and Wild. The director, whose been increasing in fame due to his more high-profile films as of late, opened the Toronto International Film Festival this year with his new project, Demolition, starring Jake Gyllenhaal, Naomi Watts and Chris Cooper.
Demolition sees Jake Gyllenhaal as investment banker Davis Mitchell, who embarks on a strange, metaphorical journey of grief after his wife dies in a sudden car accident.
Here are five things we learned at the press conference for Demolition:
Demolition is Jean Marc Vallee's most Rock and Roll film to date. "By its nature, this film, its energy, its spirit, its rhythms, its themes, what it offers… it's rock and roll. It makes noise and it provokes, and that's why I was saying that, and of course there are so many rock and roll tracks in the film." Says Vallee.
Just like in the film, Jake Gyllenhaal wrote a complaint letter in real life as a kid."When I was a little child, I was at school, and we were supposed to learn how to write letters and complaint letters, so I decided to write to Kentucky Fried Chicken and tell them I was upset that they had discontinued Chicken Littles, which were a particular type of mini hamburger with fried chicken in the middle of it." He laughs.
Demolition is an "old school" film due it's lack of modern technology and focus on older methods of communication. "And I think what's nice, particularly about this story, is that you don't have anything in email. It's not an email. It's old school in that way. It's someone trying to express themselves in a very primal way. Actually writing something is not really happening anymore, and that's why I loved it. It ironically feels fresh because it's old school," says Gyllenhaal.
Jake Gyllenhaal felt attached to Jean Marc Vallee while filming, as the director was right there with him all the way. "Jean-Marc would come up to me before a scene with tears in his eyes before my character even had tears in his eyes. He would be there right with me, deep in wherever I was or wherever he wanted me to go, and say, "Look, I've been here, I'm here now, come join me."' Says Gyllenhaal. "In this movie, I felt that I had attached myself to him, and he sort of guided me along. I wasn't as alone, because this movie was really his mind as much as the character. That's an amazing thing for me to watch, even in retrospect."
There's something peculiar about Naomi Watts. When asked about the casts own curiosities in life, Gyllenhaal responded "I find Naomi Watts a curious being."
Look for Demolition in theatres in April.
- Photo: Getty Images