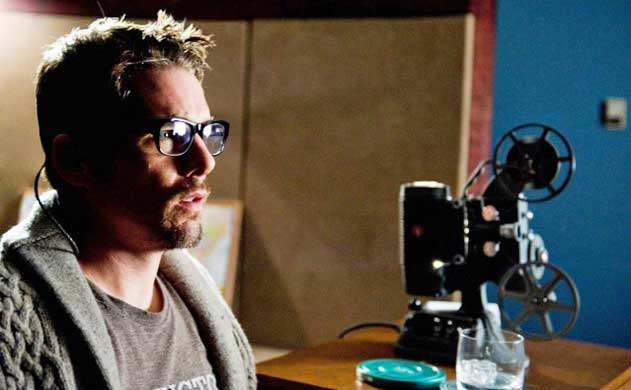 From slacker to Sunrise, we pick Ethan Hawke's Top 5 Roles
Handsome Hawke has been acting since the late '80s and despite a few telltale lines on his forehead, it's easy to forget the man's been in the business of movies for that long.
Starting out as a fresh-faced newbie in Dead Poets Society and White Fang, Ethan Hawke grew his hair long, added some facial hair and become a '90s heartthrob thanks to stand-out performances in movies like Alive and Reality Bites (oh Troy Dyer, I get you). He hasn't limited himself to just looking pretty in front of the camera - which he does - and has expanded his skill set to include director, screenwriter, stage actor and music video director - for Lisa Loeb's "Stay (I Missed You)", duh.
From getting animated for Waking Life, getting hard for Training Day and getting up-close-and-personal with vampires in Daybreakers, Hawke has proven adept at switching gears and for this month's thriller Sinister, he plays a true-crime novelist who stumbles on evil forces in his new home and it looks like the kind of horror movie that could easily cause nightmares.
With such varied choices laid out in front of us, we took a look back at his eclectic career and narrowed down the list to Ethan Hawke's Top 5 Roles. Read them below and add your picks in the comments.




#5 ALIVE (1993)

Hear me out: Sure Dead Poet's Society was where it all began, but as Nando Parrado, Hawke brought a maturity and intensity to this often-overlooked gem - about the real-life 1972 rugby team whose plane crashed over the Andes - that wasn't as developed in DPS. Alive was visceral and harrowing and though it got more attention for its no-nonsense depiction of cannibalism, it was an early leading role for Hawke that hinted at the actor he would become, and remains a memorable performance that stands amongst his best.



#4 GATTACA (1997)

Yes, this is where he met his eventual ex-wife Uma Thurman, but Hawke's on-screen performance is what's most note-worthy about Gattaca. It took some ace acting to convince us that he - with those cheekbones and those lips - is considered an imperfect specimen in the future created by writer-director Andrew Niccol. Starring opposite Jude Law, Hawke brought this cautionary sci-fi tale to life and showed how society's desire for perfection affected those whose dreams and ambitions simply couldn't be stifled.



#3 BEFORE SUNRISE (1995)

How many of us watched this and then crossed all our fingers and toes that if we jumped on a train headed to Europe, we'd meet our Jesse or our Celeste (Julie Delpy)? Richard Linklater's talkie investigation on the power and excitement that comes from fleeting love/lust/infatuation was a bottle episode of a movie, taking place during the span of one mega romantic, loaded night between two strangers who would probably never see each other again...until Before Sunset. An unlikely franchise that Hawke would later help write along with Delpy and Linklater, Before Sunrise is all stolen glances, tender moments and pure performance. One of his best.



#2 TRAINING DAY (2001)

A cinematic rebirth as it were, Hawke gets very serious in Antoine Fuqua's gritty look at a corrupt LAPD officer who is a legend in his own mind and takes great pleasure in messing with his rookie partner as he ostensibly shows him the ropes and the ways of the streets. Acting alongside a formidable presence like Denzel Washington is no easy task and although Hawke at first seemed like an odd choice, he gives an authentic, deeply felt performance as a man thrown into the eye of the storm in this down and dirty cop movie.



#1 REALITY BITES (1994)

When Lelaina Pierce (Winona Ryder) is forced to choose between straight-laced, well-meaning, employed super-yuppie Michael (Ben Stiller) and perpetually adolescent, selfish but babely Troy, the man you think she should go with feels obvious the closer you are to Lelaina's age. This quintessential Gen-X flick had a great cast, including Janeane Garofalo, Steve Zahn, Swoozie Kurtz and cameos by David Spade and Soul Asylum's Dave Pirner, boasted a stellar soundtrack and christened Hawke as an actor whose soulfulness could make us care for a guy who is, essentially, afraid to grow up. It stands tall as a generational touch-point and as an example of why Ethan Hawke is a household name and a long-standing crush.
What are some of Ethan Hawke's top roles, according to you? Join the discussion below!