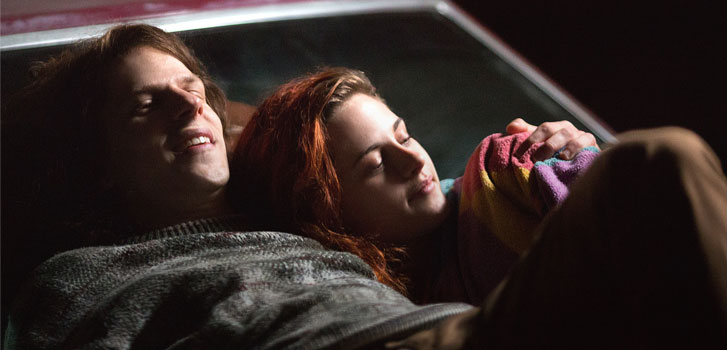 INTERVIEW: Kristen Stewart and Jesse Eisenberg on American Ultra
American Ultra is a stoner movie with a side of action and romance according to stars Kristen Stewart and Jesse Eisenberg, and really, what more can you ask for when these two are involved?
The pair star as stoned small town love birds Mike and Phoebe whose idyllic and hazy existence is thrown into turmoil when Mike is revealed to be – surprise! - a sleeper CIA agent who is unaware of his own conditioning. When he's marked as a liability to the CIA, Mike is targeted for extermination, but behind his laid-back attitude lies a stoned cold killer who proves to be a challenge for the team sent to wipe him out. Adrian Yates (Topher Grace) leads a team of agents including the sinister Laugher (Walton Goggins) in a race to reach Mike before his former commander Victoria Lasseter (Connie Britton) can turn him into her secret weapon.
We caught up with Stewart and Eisenberg to talk about Mike and Phoebe's relationship and the amount of training involved for the action-packed sequences in American Ultra. Check out the interview now before the film hits theatres on Friday:
American Ultra opens on August 21. Click for tickets and showtimes.