INTERVIEW: Lake Bell goes behind the mic with In A World
"In a world..."
Three words that have become, for better or worse, part of the fabric of movie trailers, designed to get audiences prepped for the impending apocalypse, adventure, atrocity, with speaker-rattling vocals that demand your attention.
It's perhaps taken for granted that these words are spoken by a man, since voice-over titan Don LaFontaine coined the term in the '70s, effectively shutting women out of the industry and promoting one type of authoritative voice.
But Lake Bell is going to change that. At least in her movie.
Bell (It's Complicated, "How To Make It In America") wrote, stars in and directed In A World... taking her life-long fixation with the power and possibility of speech and turning it into a clever, comedic look at the niche world inhabited by key players keen to keep it a boys'-only club.
She plays Carol, a vocal coach who still lives with her dad Sam (Fred Melamed), an imposing figure in the voice-over world and an egomaniac to boot, who does little to encourage his daughter's dream of adding another voice to the mix, saying the industry simply has no want for a womanly sound. When asked if playing the part of a barrier-breaking voice-over ingenue was wish fulfillment on some level, Bell doesn't even hesitate.
"Ah, hell yeah. I mean, I would be lying if I said no," she admits over the phone, sitting on the floor of her Brooklyn house, where she recently moved with new hubby Scott Campbell. "This was basically a 93-minute audition for me."
She's only half-kidding. After going to drama school in England, where the 34-year-old was taught how to wield her voice as a useful tool like any other in an actor's kit, she thought the gigs would come flying in. Not so.
"It's a very cliquey world and I was very foolish to think that I could take on someone else's industry without meriting it," she says. "But what I took away from it is there's such amazing hierarchies involved. I was enthralled with the cacophony of characters that were there and thought, 'Oh god, this is such a great place to start a comedy.'"
And the first-time director gives audiences plenty to laugh at from the pompous Sam to his supposed industry pal Gustav (Ken Marino) and makes room for Carol's romantic stumbles (Demetri Martin), sister drama (Michaela Watkins) unlikely professional success and personal mission to rid the world of what the sexy baby voice. (You know, the practice where women, consciously or not, speak in squeaky tones that make them seem younger, less intimidating to men, and at worst, dumb.)
"That's probably where Carol and I overlap the most, actually, cause that's a real bone I have to pick with my own gender," Bell says. "I feel like the conversation in the movie about the sexy baby vocal virus is out of great respect and love and I hope that…I'm saying basically, 'We're better than that.' That trend is something that could really go to bed now."
Though she often plays the talky, caustic best friend in rom-coms like No Strings Attached and What Happens In Vegas or piles on the satire as part the ensemble cast in "Children's Hospital," Bell moonlights in another supremely male world, writing about cars for The Hollywood Reporter's Test Drive column thanks to a youth spent watching cars zip by.
"My dad owns race car tracks and I've been around race car tracks and cars my whole life so I used a lot of the machismo and drama and male chip-on-the-should hubris and competitive nature, that male-dominated feel, to apply to the voice-over industry," she explains. "Of course race-car driving is life and death while voice-over is not but I like to apply those kind of stakes to the voice-over industry."
Though the subject is clearly close to her heart, Bell doesn't seem to have any great illusion that her film will put an end to infantilized voices or suddenly usher in female-led movie trailers - and sweetly stammers when asked about being a bona fide "triple-threat" - but does speak warmly about the experience of bringing this movie to life, shot over 20 days for less than $1 million.
"It's sort of the dream, having your friends and family, and people that you don't know, go and enjoy something you've poured over for years and years. It's for entertainment and maybe just a little sprinkle of a message. All in all, this moment right now is the moment you work for. I've got my sticky hands all over this movie so it feels really emotional when people enjoy it."
---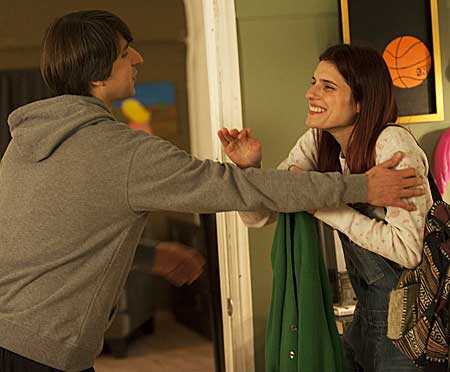 Martin, L, and Bell get awkward during a scene from In A World... (Photo credit: Bonnie Osborne)
STRANGER THAN FICTION
Lake Bell shares such deliciously awkward chemistry with her mop-topped co-star Demetri Martin, it seems they must be best friends in real life or at least close pals. But as Bell tells it, how they know each other is almost as good as any scene she wrote for the movie. She explains:
"I've known Demetri for many years but not very well. We met each other in New York for a little bit and went on like a super awkward date once but he didn't think it was a date, I did and it was hilarious! We were kids! I was just, like, 'What?' and I never saw him again and then all of a sudden someone brought his name up for [the part of] Louis and we both were like engaged at that point, and I was like, 'Oh this is so great!' It was this amazing sort of reunion. He just was perfect."
In A World... hits select theatres August 16, expanding August 23.