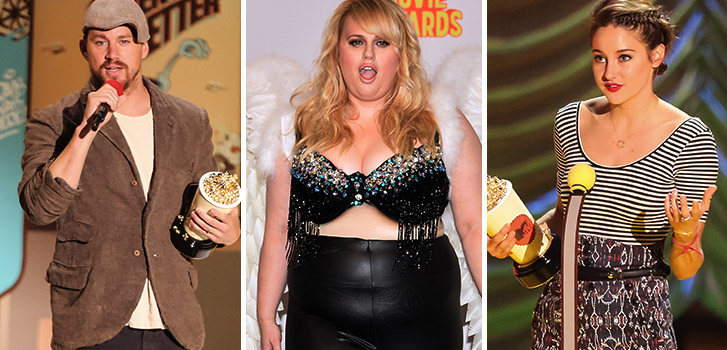 MTV Movie Awards: Winners, losers, and most memorable moments
Despite being peppered with accolades for the serious teen drama The Fault in Our Stars and its thoughtful star Shailene Woodley, the MTV Movie Awards still managed to provide several moments of silliness Sunday, including a rump-shaking Channing Tatum and a scantily clad Rebel Wilson. As always, the prizes were secondary to the irreverence.
Here are the most memorable moments from the cable network's 24th annual celebration of movies:
After the hunky cast of Magic Mike XXL presented Jennifer Lopez with a trophy for her "scared-as-(expletive)" performance in the thriller The Boy Next Door, the "American Idol" judge prodded the guys to show off their dance moves. Without missing a beat, Tatum turned his backside to the crowd and gyrated his gluteus maximus for Lopez. Unfortunately, his co-stars Joe Manganiello, Matt Bomer and Adam Rodriguez, not Lopez, joined in. "Maybe next time," she teased.
Robert Downey Jr. was enthusiastically presented with the Generation Award, the show's take on a lifetime achievement honor, by his fellow cast mates from The Avengers. Downey's poignant acceptance speech, in which he recalled his struggles with drug addiction, was perhaps overshadowed by his awesome entrance. The star of the Iron Man movies emerged on the cartoon-themed stage from inside what he called a "massive, trippy cat head."
Rebel Wilson, who hosted the MTV Movie Awards in 2013, turned heads at this year's extravaganza when she joined her Pitch Perfect co-stars onstage dressed as a Victoria's Secret model - wings and all - to introduce a clip from their a capella comedy sequel. The funny lady wasn't done showing off the goods. Wilson not-so-accidently dropped the winner envelope on the stage, prompting her to jokingly bend over and expose the word "THINK" scrawled across her form-fitting pants.
The usually goofy Kevin Hart showed off his fraternal side as he received the comedic genius award. The Get Hard funnyman was joined onstage by his children, daughter Heaven and son Hendrix. Hendrix clutched his dad's golden popcorn bucket trophy as Hart accepted the accolade, even though the tyke could barely lift it. Afterward, the Hart boys showed off a signature handshake that culminated with the duo cutely prancing around each other, drawing giggles from the audience.
And here's the list of winners from last night's MTV Movie Awards:
MOVIE OF THE YEAR
American Sniper
The Hunger Games: Mockingjay - Part 1 Guardians of the Galaxy
Gone Girl WINNER: The Fault in Our Stars
Boyhood
Whiplash Selma
BEST FEMALE PERFORMANCE
Jennifer Lawrence - The Hunger Games: Mockingjay - Part 1
Emma Stone - Birdman WINNER: Shailene Woodley - The Fault in Our Stars
Reese Witherspoon - Wild Scarlett Johansson - Lucy
BEST MALE PERFORMANCE
WINNER: Bradley Cooper - American Sniper Chris Pratt - Guardians of the Galaxy
Ansel Elgort - The Fault in Our Stars Miles Teller - Whiplash
Channing Tatum - Foxcatcher
BEST SCARED-AS-S**T PERFORMANCE
Rosamund Pike - Gone Girl Annabelle Wallis - Annabelle
WINNER: Jennifer Lopez - The Boy Next Door Dylan O'Brien - The Maze Runner
Zach Gilford - The Purge: Anarchy
BREAKTHROUGH PERFORMANCE
Ansel Elgort - The Fault in Our Stars Rosamund Pike - Gone Girl
David Oyelowo - Selma WINNER: Dylan O'Brien - The Maze Runner
Ellar Coltrane - Boyhood
BEST SHIRTLESS PERFORMANCE
WINNER: Zac Efron - Neighbors Chris Pratt - Guardians of the Galaxy
Channing Tatum - Foxcatcher Ansel Elgort - The Fault in Our Stars
Kate Upton - The Other Woman
BEST DUO
Channing Tatum & Jonah Hill - 22 Jump Street WINNER: Zac Efron & Dave Franco - Neighbors
Shailene Woodley & Ansel Elgort - The Fault in Our Stars Bradley Cooper & Vin Diesel - Guardians of the Galaxy
James Franco & Seth Rogen - The Interview
BEST FIGHT
Jonah Hill vs. Jillian Bell - 22 Jump Street Chris Evans vs. Sebastian Stan - Captain America: The Winter Soldier
WINNER: Dylan O'Brien vs. Will Poulter - The Maze Runner Seth Rogen vs. Zac Efron - Neighbors
Edward Norton vs. Michael Keaton - Birdman
BEST KISS
WINNER: Ansel Elgort & Shailene Woodley - The Fault in Our Stars James Franco & Seth Rogen - The Interview
Andrew Garfield & Emma Stone - The Amazing Spider-Man 2 Scarlett Johansson & Chris Evans - Captain America: The Winter Soldier
Rose Byrne & Halston Sage - Neighbors
BEST WTF MOMENT
WINNER: Seth Rogen & Rose Byrne - Neighbors
Jonah Hill - 22 Jump Street Jason Sudeikis & Charlie Day - Horrible Bosses 2
Miles Teller - Whiplash Rosario Dawson & Anders Holm - Top Five
BEST VILLAIN
Rosamund Pike - Gone Girl J.K. Simmons - Whiplash
Jillian Bell - 22 Jump Street WINNER: Meryl Streep - Into the Woods
Peter Dinklage - X-Men: Days of Future Past
BEST MUSICAL MOMENT
WINNER: Jennifer Lawrence - The Hunger Games: Mockingjay – Part 1
Chris Pratt - Guardians of the Galaxy Seth Rogen & Zac Efron - Neighbors
Bill Hader & Kristen Wiig - The Skeleton Twins Miles Teller - Whiplash
BEST COMEDIC PERFORMANCE
WINNER: Channing Tatum - 22 Jump Street
Chris Pratt - Guardians of the Galaxy Rose Byrne - Neighbors
Chris Rock - Top Five Kevin Hart - The Wedding Ringer
BEST ON-SCREEN TRANSFORMATION
Eddie Redmayne - The Theory of Everything WINNER: Elizabeth Banks - The Hunger Games: Mockingjay – Part 1
Zoe Saldana - Guardians of the Galaxy Steve Carell - Foxcatcher
Ellar Coltrane - Boyhood
- With files from the Associated Press