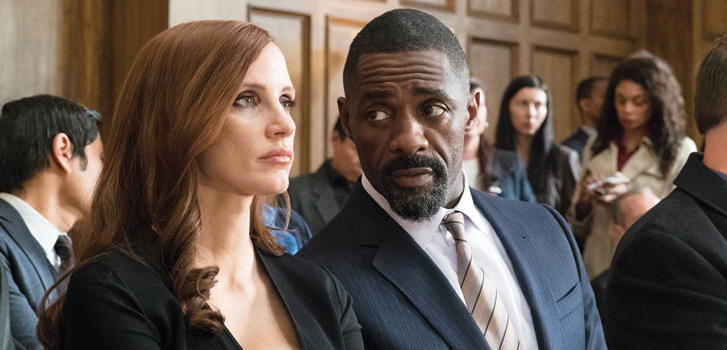 Molly's Game director Aaron Sorkin talks being in the director's chair for the first time
Aaron Sorkin's first day as a director didn't go exactly as he'd hoped.
The date was November 9th, 2016, and the celebrated writer of A Few Good Men, The Social Network and Steve Jobs was in Toronto to shoot his directorial debut, Molly's Game. The film tells the story of Molly Bloom, a competitive skier who, after being sidelined by a back injury, started running a high-stakes poker game that attracted celebrity players, including Tobey Maguire, Leonardo DiCaprio and Ben Affleck. Bloom ran into trouble with the FBI, however, after allowing players with Russian mob connections into another game she'd organized.
If that date — November 9th, 2016 — rings a bell, there's good reason.
"The day after the election, yes," recalls a nattily dressed Sorkin, as he sits next to the film's star, Jessica Chastain, on a hotel couch in Toronto during the Toronto International Film Festival.
Of course, Sorkin is referring to the U.S. general election held one year ago this month. The one where Donald Trump became President of the United States.
And for Sorkin, who is perhaps best known as the writer and showrunner of TV's "The West Wing" — in which America is run by a Democratic President who speaks fluent Latin, is a scholar of economics, American studies and theology, and possesses an ethical core as unwavering as a flagpole made of lead — this was not good.
"I did not in my wildest dreams anticipate that it was going to be a tough day," continues Sorkin, who had already chosen one of the film's easiest scenes for his first day as a director. Molly overhears her mother having a fight with her father over the phone. "I thought if anything it would be a fun day and I'm going to have to ground people a little bit."
Two days earlier Sorkin had gathered all of his department heads to give them some advice.
"I said, 'You know, listen, there's an election in the U.S. tomorrow. By the end of the day some people are going to be very happy, some people are not going to be very happy. Happy people, give the unhappy people a break. Don't dance around.' And everybody understood that what I was saying was, 'There may be one or two people in the group rooting for Trump to win; it's not going to happen. Hillary people, don't dance in their face.'"
"Don't gloat," interjects Chastain. The two-time Oscar-nominee (for Zero Dark Thirty and The Help) has one leg curled underneath her body as she sits, looking chic, in a scarlet blazer that matches her hair, her lips, and the soles of her Louboutin shoes.
In fact, Sorkin was in his room at Toronto's Four Seasons hotel at about 4 a.m. on November 9th when he wrote that famous letter to his daughter Roxy and Roxy's mom Julia that went viral after being published in Vanity Fair.
It began: Sorkin Girls, Well the world changed late last night in a way I couldn't protect us from. That's a terrible feeling for a father. I won't sugarcoat it — this is truly horrible. It's hardly the first time my candidate didn't win (in fact it's the sixth time) but it is the first time that a thoroughly incompetent pig with dangerous ideas, a serious psychiatric disorder, no knowledge of the world and no curiosity to learn has.
"He actually sent it to me before it was published. I was really upset," recalls Chastain. "I was actually in Toronto by myself, my husband wasn't even here, and I was in a hotel room, super depressed, and I came to work, and the one person you want to see when something like that happens actually is Aaron Sorkin. And he said, 'I wrote an email to my daughter, I'm going to send it to you.'"
Over the next weeks, Chastain and Sorkin, who also wrote the script for Molly's Game, worked through their disappointment while making a dense, thought-provoking drama that rises above the real-life story's salacious bits and focuses on Bloom's tenacity, drive and refusal to reveal the facts and foibles of her poker-playing clientele's personal lives, even if it means going to jail.
But don't expect to see actors playing Maguire, DiCaprio, Affleck or Affleck's friend Matt Damon (who reportedly came to just one game and was a complete gentleman) in the film. Although Molly Bloom did identify those actors in her 2015 memoir, "Molly's Game: From Hollywood's Elite to Wall Street's Billionaire Boys Club, My High-Stakes Adventure in the World of Underground Poker", she insists it was because they had already been outed as players in her game. She would reveal no more, and she certainly wouldn't turn personal information and emails over to the FBI.
That gave Sorkin and his team an out. To the disappointment of those who want to know whether Leo talked about his romantic conquests while waiting on the river, or if Ben was likely to fold pocket jacks if there was an overcard on the table, there isn't a single actor named in the film.
That said, it's clear to anyone who has read Bloom's book, or the articles written about it, that Michael Cera's character — identified only as Player X — is at least 70 percent Tobey Maguire, by far the best and most involved of the celebrity poker players.
Neither Sorkin nor Chastain were poker players before this film, and they still aren't.
But Chastain did sit in on "the New York game" that's mentioned in the movie and is still running today. Not as a player, mind you, just as a fly on the wall. No one recognized her; they thought she was someone's girlfriend.
"Then about four hours in I felt guilty and I was like, 'Okay you guys, I'm going to play Molly in a movie,' and we all talked about the game. So that was very helpful," says Chastain. "I was in the man cave…. I just sat there quietly; I bit my tongue. Any time I wanted to disagree with what someone was talking about, or tell them that I had a lot of problems with what they were talking about, I had to remind myself that I was an observer."
Her silence paid off.
"That was very helpful," Chastain says of being in the room. "I don't know how I lucked into that. It was a really lucky break for me."
Marni Weisz is the editor of Cineplex Magazine.
Molly's Game Hits Theatres December 25th.
To watch these films and more at a Cineplex theatre near you, click here for tickets and showtimes!