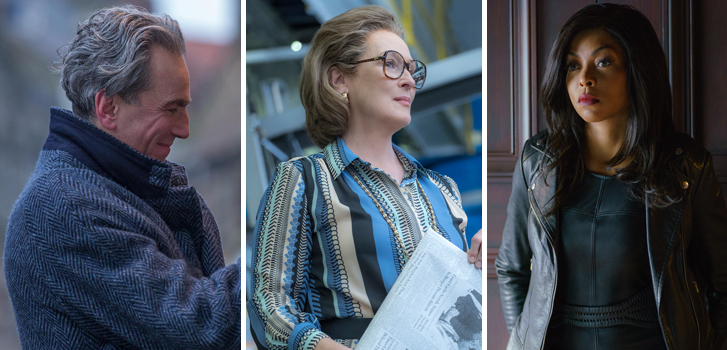 Phantom Thread, The Post, Proud Mary and all of the movies you need to see in January
It's time to start a new year at the movies.
2017 was a wonderful year for film, but we're already looking forward to what 2018 has in store. This month we have a variety of art house, action, and sweet bears in blue jackets. Check out the movies you need to see in theatres this January below!
These are the movies you have to see this January:
Release Date: January 5th, 2018
For Fans of: Fashion, Romance, Paul Thomas Anderson
See it with: A friend
Daniel Day Lewis has formally announced that Phantom Thread will be his last film, as he's retiring from acting. In his last film performance, he plays a renowned dress maker who ventures into a tumultuous relationship with a younger woman. Directed by Paul Thomas Anderson, you know that the film will be something of a masterpiece. The two men worked together on There Will Be Blood, and we couldn't think of a better way for DDL to finish off his career. The film also introduces us to newcomer Vicky Krieps, and offers a stunning score from Radiohead member Jonny Greenwood.
​
Release Date: January 5th, 2018
For Fans of: Never sleeping again
See it with: A group of friends
The latest entry in the Insidious series looks scarier than ever. This installment is said to give us more back story of the franchise's central character, Elise Reiner. The film is set in her old family home, where more ghosts and evil spirits are haunting a new group of people. This is a great one to see with all your friends and see who can go the longest without screaming.
​
Release Date: January 12th, 2018
For Fans of: Taraji P. Henson, Boston, Action
See it with: Your dad
We were sold when we heard Taraji P. Henson would be starring as a hitwoman. The film follows Mary, who works for an organized crime family in Boston. Her life changes however when she meets a young boy after one of her hits goes awry, and sparks her maternal instincts. We adored her performance in Hidden Figures, and we're happy to see more leading roles for Taraji P. Henson!
​
Release Date: January 12th, 2018
For Fans of: Bears, British Accents, Evil Hugh Grant
See it with: Friends
Paddington 2 brings together some of the UK's finest actors: Hugh Grant, Imelda Staunton, Sally Hawkins, Michael Gambon, Julie Walters, Jim Broadbent, and of course Ben Whishaw as the voice of Paddington. The sequel finds Paddington living happily with the Brown family, but things go wrong when after Paddington works to save money for a gift for his aunt's 100th birthday, the gift is stolen. We're sure to have a heartwarming time at the movies with this sweet bear.
​
Release Date: January 12, 2018
For Fans of: Isabelle Huppert, Michael Haneke, Dysfuntional Families
See it with: Yourself
We couldn't think of a better time of year to take in some Michael Haneke. In the dead of winter, what else could possibly lift your spirits? While the film's title is ironic, this is actually one of Haneke's lighter films. An often funny look at a dysfunctional family (who you might notice are actually the same family from his previous film, Amour), Happy End is an ensemble piece that has a little bit of everything.
​
Release Date: January 12th, 2017
For Fans of: Truth, Spielberg, Meryl Streep
See it with: Your parents
Steven Spielberg is back and here to sweep the awards race off of its feet. A timely film about a giant government cover-up and the journalists who fight for the truth is here to steal the thunder from all of the other Oscar-buzzed films of the year. Not only that, the film stars Tom Hanks and Meryl Streep, and early buzz promises that it's great. We're behind anything Spielberg does, and we're not opposed to see Streep pick up Oscar number four, which is likely to happen, and which would tie her with Katharine Hepburn for most acting Oscar wins.

​
Release Date: January 19th, 2018
For Fans of: War, Horses, Chris Hemsworth
See it with: Your dad
12 Strong follows the first Special Forces team who were deployed to Afghanistan after 9/11. These men must work with an Afghan warlord to take down the Taliban. It stars a great cast lead by Chris Hemsworth and featuring Michael Shannon, Trevante Rhodes (Moonlight), Michael Pena, William Fichtner, Taylor Sheridan and Rob Riggle.
​
---
Release Date: January 19th, 2018
For Fans of: The 1800s, Westerns, Scott Cooper
See it with: Your dad
Christian Bale and Rosamund Pike co-star in this film set in 1892, where Captain Joseph J. Blocker agrees to escort a Cheyenne chief and his family through dangerous territory. The film received strong reviews when it played the festival circuit last year.
​
Release Date: January 19th, 2018
For Fans of: Foreign Language Cinema, Sad movies, Diane Kruger
See it with: Your mom
Diane Kruger won the Best Actress award at the Cannes Film Festival for her performance as a mother who loses her son and husband in a terrorist attack. A film that centres on grief and revenge, In the Fade is a powerful character study about a woman who has lost everything.
​
Release Date: January 26, 2018
For Fans of: The books, Dylan O'Brien, Mazes
See it with: Friends
The final installment of the Maze Runner franchise is finally here. The film's release was delayed after star Dylan O'Brien was injured on set. The film follows Thomas (O'Brien) as he leads his group of escaped Gladers into their most dangerous mission yet. See what happens in the epic finale when the film hits theatres at the end of the month!
---
For showtimes for these movies and more, click here!