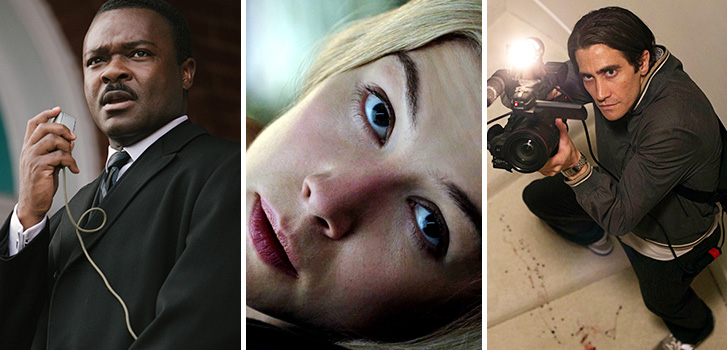 The snubs and surprises of this year's batch of Oscar nominees
2014 was a great year for women in film, but looking at this year's Oscar nominations, you'd have no idea. No women were nominated in for Best Director, Adapted Screenplay, Original Screenplay, Cinematography, or Original Score. Boyhood's Sandra Adair was the lone female editor nominated for Film Editing.
Continuing the trend, Ava DuVernay, basically a shoo-in for a Best Director nod for her MLK biopic Selma, and Gone Girl screenwriter and novelist Gillian Flynn were the two biggest snubs at this morning's press conference for the 87th Academy Awards. Altogether the popular, critically acclaimed films netted three award nominations.
David Fincher, Gone Girl's director, also received no nomination – with Foxcatcher's Bennett Miller shockingly assuming the fifth place in the Best Director category alongside more likely winners Alejandro Gonzalez Inarritu and Richard Linklater.
David Oyelowo (Selma), Jake Gyllenhaal (Nightcrawler), and Ralph Fiennes (The Grand Budapest Hotel) are considered the biggest snubs in the acting categories with Marion Cotillard surprising everyone with her nomination for the Beligan film Two Days, One Night.
Though it received a nomination for its insanely catchy song "Everything Is Awesome" by The Lonely Island (and friends), The Lego Movie did not receive a nomination for Best Animated Film despite being the favourite to win. The Tale of Princess Kaguya, How to Train Your Dragon 2, and The Boxtrolls now each have a fighting chance for the award.
Alexandre Desplat is nominated twice in the Original Score category for both The Grand Budapest Hotel and The Imitation Game, bringing his lifetime nomination total to eight. Gone Girl composers Trent Reznor and Atticus Ross, who have won Oscar gold in the past for their work with Fincher, are out of the running.
Finally, despite Hollywood's overwhelming affection for the late film critic Roger Ebert, the documentary Life Itself was noticeably absent from the Documentary Feature category.
What do you think were the biggest snubs and surprises for this year's Academy Award nominations? Check out the below Twitter reactions from our followers, and add yours in the comments!
@CineplexMovies Bradley Cooper...didn't see that coming.

— BenedictBAE (@Nancy_Sgro) January 15, 2015
@CineplexMovies The goddess herself, Ava DuVernay. Can't imagine why the voters overlook her. Hmpf.

— siân melton (@sharnacious) January 15, 2015
@CineplexMovies They should have nominated Mommy or Anne Dorval

— Steve Rouleau (@SteveRouleau) January 15, 2015
@CineplexMovies all the love for American Sniper all of a sudden and no nod for Gone Girl in the adapted screenplay category #snubbed #oscar

— BJ Singleton (@bjsingleton) January 15, 2015