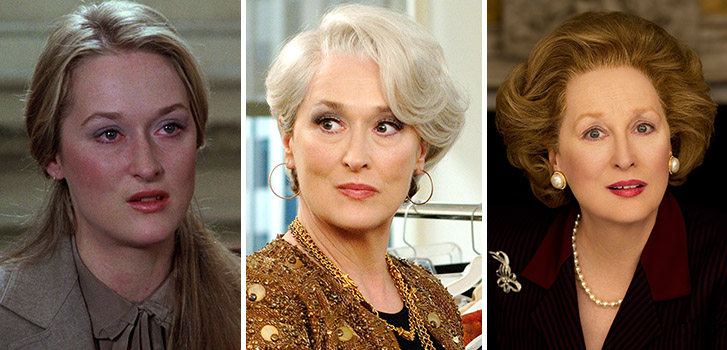 Top 10 Meryl Streep Roles
When it comes to an actress of Meryl Streep's singular talents, coming up with a list of her 10 best roles felt like our own small-scale version of Sophie's Choice.
Often, and accurately, called the best living actress, Ms. Streep makes it all seem so effortless, from super-serious dramas, lighter comedies, musicals, biopics, romance and satire, is a whiz with accents and possesses the ability to physically lose herself in roles so, while she doesn't look like Meryl, we all know that only she could pull off the masterful acting we're watching on-screen. And she's got the Oscars to prove it.
So, yes we're fans - who isn't? - and next up for Streep is a cameo the period drama Suffragette, which follows the lives of the foot soldiers of the early feminist movement and their fight against an increasingly brutal government. While Meryl may step back from the spotlight in Suffragette in favour of co-stars Carey Mulligan, Helena Bonham-Carter, and Anne-Marie Duff, Streep has had plenty of time to shine on screens. We took on the increasingly hard task of picking our top 10 Meryl Streep roles.
Get our list and weigh in with your picks in the comments!



#10 The Iron Lady (2011)

Bringing to life a divisive former political figure is not a challenge that every actor would be game for, especially considering the figure in question is the only woman to serve as Britain's prime minister, and holding onto the title for the longest run at that. Meryl Streep put on a wig, false teeth and plenty of face putty to get the Margaret Thatcher look down and then dug deep for the emotionally tumultuous journey of a woman who is looking back at her days as the ruler of the United Kingdom. And critics dug it, with Streep nabbing her third Oscar for her acting in The Iron Lady.



#9 The Hours (2002)

Though Nicole Kidman, and her prosthetic nose, soaked up most of the attention for this bracing Stephen Daldry drama, it was hard to take your eyes off Meryl, who fit into the story connected by Virginia Woolf's "Mrs. Dalloway" as a modern-day version of the novel's protagonist, getting ready to host a party for her friend and reflecting back on the life she never led. As a woman trying not to be swallowed whole by her regrets, Streep knocked another one out of the park.



#8 Adaptation. (2002)

In this mind-twisting meta-story, Streep played Susan Orlean, the real-life woman who wrote the non-fiction book "The Orchid Thief," a book that Charlie Kaufman (as played by Nicolas Cage) has been tasked to adapt but can't seem to get a handle on. One of Streep's not-often-lauded talents lies is her inherently mellifluous voice, which is put to extremely good use here as we get snippets of Susan reading from her book. Though Streep would ultimately lose, she scored an Oscar nom for Best Supporting Actress and it was so well-deserved.



#7 A Cry in the Dark (1988)

Yes, yes, we know. The second you spied this one on the list, the oft-repeated parody line is probably the first thing that came to your mind. "That dingo's got my baby" aside, the film chronicles the story of the Chamberlains - an Australian family whose nine-week-old baby, Azaria, disappeared from a camp-ground near Uluru in August 1980. Streep takes on the role of the accused mother, Lindy, and her performance as the emotionally reserved but devastated woman struggling to prove her innocence is a must-see. Just try to ignore the hair and concentrate on the spot-on Aussie accent.



#6 Julie & Julia (2009)

Whether it was because Julia Child was actually a delight to play or the woman herself was so upbeat it was inevitable that the actress portraying her would emit a bit of that positivity, it really seemed that Streep was having a blast in Nora Ephron's fun take on a real-life story of a woman and her imagined and inspirational connection with the garrulous gourmand. Yet again, Mighty Meryl won an Oscar nomination for her delicious performance but didn't walk home a winner, though we're sure at this point, with a record 17 (!) nominations, Streep gets that she's well-regarded.



#5 Silkwood (1983)

In the real-life story of one employee's battle to expose the dangerous practices at a Kerr-McGee plutonium plant, Streep earned her fifth Oscar nomination. Directed by Mike Nichols, penned by Nora Ephron and Alice Arlen, and co-starring Kurt Russell and Cher, this is one film of Streep's that has fallen under the radar over the years. Though very much a product of its time, no surprise given the story was ripped from the headlines, Streep brings a complexity and depth to Karen Silkwood that remains just as powerful almost 30 years later.



#4 Kramer vs Kramer (1979)

Though 1978's The Deer Hunter is the film that put Streep on everyone's radar (including the Academy), it was her role as the emotionally torn mother and wife, Joanna Kramer, that cemented her status as a talent not to be ignored. The complex and, at-times, slightly unsympathetic role came at a time when concepts of family, priorities and motherhood were shifting and changing to something completely new. Streep tapped into that change and it brought the actress her very first Academy Award as Best Supporting Actress.



#3 Out of Africa (1985)

In yet another Oscar-nominated role, Streep teamed up with director Sydney Pollack and leading man Robert Redford in this romantic drama based on the memoirs of Baroness Karen Blixen. Backed by stunning visuals and a transcendent score, courtesy of composer John Barry, Steep owns the screen (with a spot-on Danish accent no less) as an independent woman completely ahead of her time trying to find purpose in a new life in Kenya (then British East Africa). Though Streep did not take home the golden statuette come Oscar night, the film nabbed seven including Best Picture and Best Director for Pollack.



#2 The Devil Wears Prada (2006)

One of those movies that you HAVE to watch when it's magically on TV, even though you've seen it half a dozen times, Streep does steely, judgmental, ice queen to a tee in this fun and fierce look at the fashion industry from a fish-out-of-water's suddenly insider perspective. Nevermind that she looked fa-bu-lous, Streep embodied the ruthless Miranda Priestly (but really Vogue's leading lady Anna Wintour) and elevated a movie that could have been Anne Hathaway's coming-out party to something worthy of the Academy's attention.




#1 Sophie's Choice (1982)

Could the top spot have been anything other than this emotionally harrowing tale of Sophie Zawistowskiof, a Holocaust survivor completely broken by one unthinkable decision? We don't think so. Her performance in the big-screen adaptation of William Styron's best-selling novel, including yet another stellar accent (courtesy of German and Polish lessons), lead to Streep's very first Best Actress Oscar win. No surprise given that not only is it her finest performance, but it is largely considered to be one of the best on-screen performances by any actress...ever. No arguments here.
What would your list look like? Maybe a Mamma Mia instead of one of our picks? Share your favourite Meryl Streep roles below. Catch Suffragette select theatres beginning October 30th.