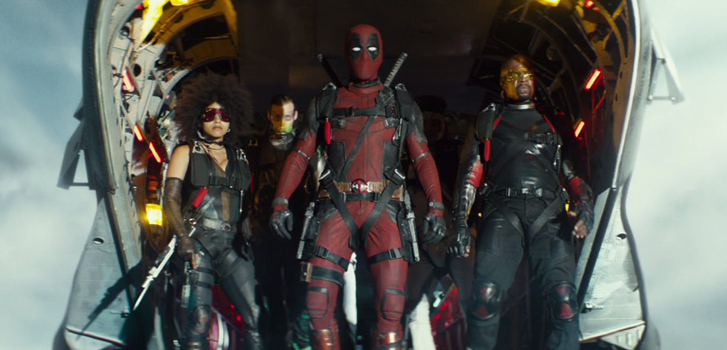 Who's who in Deadpool 2: we're breaking down the cast for you
Our favourite foul-mouthed mercenary Wade Wilson is back.
Details about Deadpool 2, arriving in theatres May 18, have been long kept under wraps, to the point where we still aren't certain what exactly is going to happen in this highly anticipated sequel. Deadpool delivered a lot of breakthrough performances from lesser known actors when it came out in 2016, and a lot of the cast from the first film is returning, but we're also going to meet some new characters.
We're excited to see these guys all back up on the big screen together again, and to see where the new people fit into the narrative. In anticipation of Deadpool 2, which looks to be another R-Rated superhero riot, we're breaking down the cast of the film.
---
Ryan Reynolds, Deadpool/Wade Wilson
Ryan Reynolds was a notable actor and heart-throb long before he became Deadpool, but he never really had his true breakout performance until he put on that red suit. Ryan was always trying out different paths, from comedies like Just Friends, Van Wilder and The Proposal, to horror/thrillers like The Amityville Horror and Buried, and then also doing some more low-key indie projects like Paper Man, The Voices and Adventureland. Essentially, Ryan Reynolds has proven that he can do any genre, but it was truly a match made in heaven when he landed the role of Deadpool, allowing him to showcase his strong comedic chops alongside lots of action. We're certain it'll remain his most legendary role.
---
Morena Baccarin, Vanessa
Morena Baccarin plays Vanessa, the love of Wade's life. Prior to her breakout role in the first film, Morena was mostly known for her work on television with major roles in a bunch of series, including "Homeland", "The Flash" and "Gotham", though it all began with Joss Whedon's "Firefly". While her role as Vanessa in the first Deadpool saw her a regular human being, we are curious if that'll change in the sequel, seeing as the original character from the comic books was also known as Copycat, a shape-shifting mutant. We'll soon find out if her alter-ego will emerge.
---
Josh Brolin, Cable
Okay seriously, what movie is Josh Brolin NOT in? He has to be one of the most frequent working actors in Hollywood, and for good reason: he's simply great in everything that he does. It's crazy to think that this summer, he's starring in both Avengers: Infinity War as the villain Thanos as well as bringing the comic book character Cable to the big screen for the first time in Deadpool 2. We're still not quite sure if Brolin's Cable is the villain of the film, or if in some warped sense he's the hero, but we do know that he's come from the future to kill a mystery child character. Brolin's career is vast and while he's worked on a countless variety of projects, he tends to have an affinity for films based on comic books, including Oldboy, Sin City: A Dame to Kill For, Jonah Hex, and his new Marvel ventures.
---
Brianna Hildebrand, Negasonic Teenage Warhead
Apart from a couple of independent films, Brianna Hildebrand hasn't been involved in much other than Deadpool, where she broke out in 2016 as Negasonic Teenage Warhead. She's returning for the sequel, but we're not too sure yet about how big of a role she'll have here.
---
Zazie Beetz, Domino
Actress Zazie Beetz is most known for her role as Van on the popular FX series created by Donald Glover, "Atlanta". It speaks volumes that she won the coveted role of Domino in Deadpool 2. She has a strong presence in the comic books, as the result of a government breeding program that was trying to build the ultimate mutant weapon. Domino has some cool powers, mainly a telekinetic ability to change her environmental surroundings to work out in her favour. We're excited to see Zazie take on one of the leading roles here.
---
T.J. Miller, Weasel
T.J Miller made waves in comedy with his TV role in "Silicon Valley" and voice work in the How to Train Your Dragon franchise, Big Hero 6, and who could forget, The Emoji Movie, and has started to break into sidekick roles in movies such as Deadpool. However, we're not sure how much we'll see of him after he revives his role as Weasel in Deadpool 2. Beset by controversy, the comedian may choose to take a break from acting. Despite that, we're sure he will offer some more comedic relief as Deadpool's best friend and arms dealer. We're not sure how involved Weasel will be in the action, but we know we'll get some jokes and banter between him and Wade.
---
Karan Soni, Dopinder
One of the breakout stars of the first film, the role of cabbie Dopinder was elevated with the hilarious performance from Karan Soni. We're not sure how big of a role he'll play in Deadpool 2, but we're hoping it's substantial. Since Deadpool, Karan has landed lots of small roles in bigger films including Rough Night, Ghostbusters and Office Christmas Party, as well as being a series regular on "The Goldbergs".
---
Leslie Uggams, Blind Al
An actress who's been in the business since the 1960s, a lot of us were not too familiar with Leslie Uggams until we saw her in Deadpool, but we're sure glad we know her now. She starred in the notable miniseries Roots, and made appearances on classic comedies like "The Cosby Show" and "The Love Boat". As Blind Al, Wade's roomate, Leslie is one of the highlights of the first film and we're curious to see where she'll fit in the sequel, especially if Wade and Vanessa end up moving in together. You can also see Leslie on the popular television series "Empire".
---
Terry Crews, Bedlam
Former NFL playerTerry Crews broke into acting after his football career, and has been working on both action and comedy in television and film since the 90s, making him the perfect addition to the cast of Deadpool 2. He's most known now for his role on "Brooklyn 99", where he plays the hilarious and lovable police Sergeant Terry Jeffords. His presence in this Deadpool sequel was only revealed when the latest trailer dropped, and it looks like he will be taking on the role of Bedlam, a character who first appeared in the comics in 1995. We hope the role offers Crews the chance to use his comedy chops as well as his muscles!
---
Julian Dennison, The Kid
Julian Dennison was an instant breakout star when he appeared in Hunt for the Wilderpeople, a hit from director Taika Watiti. We still don't know what exactly his character is in Deadpool 2, but it's definitely pivotal as he seems to be, from the trailer, a mutant that Cable is trying to kill, and the major plot point of the whole movie. Going from the small New Zealand indie hit to a major role in a big superhero movie means great things are in store for Julian, and we're excited to see what he does here.
---
Rob Delaney, Peter
In the final Deadpool 2 trailer, released today, it was revealed that comedian Rob Delaney will be in the film as a regular guy named Peter who joins Deadpool's team. You may know Delaney from his comedy, his outstanding twitter account, and from the television series "Catastrophe" that he stars on and writes for with Sharon Horgan.
Advance tickets for Deadpool 2 are now on sale! Click here to get yours! Watch the latest and final trailer below!
​