DON'T JUST SEE IT. FEEL IT.
Get into the action like never before with the next level of virtual realism. A revelation in believability, D-BOX recreates the sensations of the real world with motion and vibrations through your seat, while suppressing dizziness associated with virtual reality. Synchronized with thrilling VR audio and video content, this hyper-realistic motion experience is unlike anything you've ever seen…or felt. Are you ready? Experience it soon at Scotiabank Theatre Ottawa.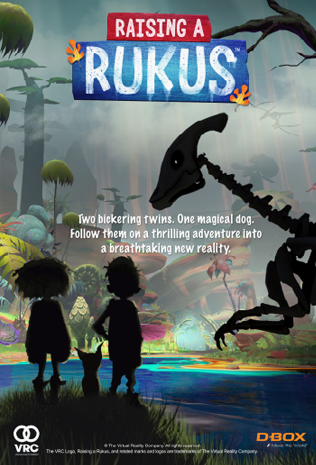 RAISING A RUKUS Two Bickering Twins, One Magical Dog
Jonas and Amy are two twins who couldn't be more different and sharing a small bedroom means free-spirited Amy and studious Jonas can't help but get on each other's nerves. But when a magical dog finds his way into their lives - they will experience a whole new reality. Rukus leads the twins on a rollercoaster journey through a thrilling prehistoric world where it will take all of Amy's athleticism, all of Jonas's knowledge, and embracing each other's differences to find their way back home. Thoughtful storytelling, cutting edge technology, and unlimited imagination combine in this groundbreaking new franchise for a unique entertainment experience the whole family can enjoy. Raising a Rukus is the first episode of the groundbreaking new franchise from the Academy Award Winning Production Designer of Avatar and the Director of Maleficent.
Opening Soon in the XSCAPE entertainment center of Scotiabank Theatre Ottawa.